Keynote Speakers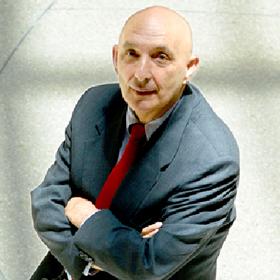 Dr. Sos Agaian
Speech Topic: Bioinspired Computational Urban Intelligence: A Long Road Ahead
ABSTRACT: As the global population continues to grow and an increasing number of people move to big cities. United Nations cited that currently 50% of the people leaving in cities and 57% would be going there in 2025. The analysis of the urban data has drawn significant interest in some applications, such as disaster relief, military intelligence, regional planning, and urban expansion tracking in developing countries. There is a need for new approaches to process generated by a diversity of sources in urban environment information and provide analytical tools to support the smart urban design, planning, and management. This talk focuses on understanding the nature of urban imaging tools- how can we efficiently to process, integrate, and analysis of big and heterogeneous data generated by a diversity of sources in urban spaces, such as sensors, devices, vehicles, and human. Well describe key bioinspired urban image processing essentials and present future research directions in this exciting area.

Bio: Sos Agaian is a Distinguished Professor of Computer Science at the Graduate Center/CSI, CUNY. Dr. Agaian was a Peter T. Flawn Professor of University of Texas at San Antonio. His research interests include computational vision and machine learning, large scale data analytic, multimodal data fusion, urban computing, biologically- inspired signal/image processing modeling, multimodal biometric and digital forensics, 3D imaging sensors and security, and biomedical and health informatics. He has authored over 650 peer-reviewed research papers, 10 books, and 19 edited proceedings. Dr. Agaian holds over 52 American and foreign issued or pending patents/disclosures. Several of Agaian's IP is commercially licensed. He is an Associate Editor for several journals, including the Transaction of the Image processing (IEEE). He is a fellow of IS&T, SPIE, AAAS, IEEE and a Foreign Member of the Armenian National Academy.

He received MAEStro Educator of the Year, sponsored by the Society of Mexican American Engineers and the Distinguished Research Award at the University of Texas at San Antonio. He is the recipient of the Innovator of the Year Award (2014), of the Tech Flash Titans-Top Researcher-Award (San Antonio Business Journal, 2014), the Entrepreneurship Award (UTSA-2013 and 2016), and the Excellence in Teaching Award (2015). He is an Editorial Board Member for the Journal of Pattern Recognition and Image Analysis and an Associate Editor for several journals, including the IEEE Transactions on Image Processing, the IEEE Transactions on Systems, Man and Cybernetics, Journal of Electrical and Computer Engineering (Hindawi Publishing Corporation), International Journal of Digital Multimedia Broadcasting (Hindawi Publishing Corporation) and Journal of Electronic Imaging (SPIE, IS&T).​
Dr. Jinshan Tang
Professor, School of Technology at Michigan Technological University
Senior member of IEEE and a member of the Technical Committee on Information Assurance and Intelligent Multimedia-Mobile Communications, IEEE SMC society.
Speech Topic: Object Recognition based on 3D shapes extracted from 3D imaging and applications
Bio: Dr. Jinshan Tang is currently a professor at Michigan Technological University. He received his PhD degree from Beijing University of Posts and Telecommunications and also received postdoctoral training at Harvard Medical School and the National Institute of Health. Dr. Tang's research covers wide areas related to image processing and imaging technologies. He has published more than 100 refereed journal and conference papers and two books. He has also served as a committee member at various international conferences. He serves as editors or guest editors of many journals, such as Pattern Recognition, IEEE System Journal, IEEE Transactions on SMC: Part C, IEEE Journal of Selected Topics in Signal Processing, Journal of Healthcare Engineering, and so on. For his research, he won the Best paper prize at SPIE conference on Mobile Multimedia/Image Processing, Security, and Applications (2016) and the Achievement Award at the 2001 International Multi-conference (2001). He is a senior member of IEEE and Co-chair of the Technical Committee on Information Assurance and Intelligent Multimedia-Mobile Communications, IEEE SMC society.
Dr. Peng Yue
Professor, Wuhan University

Speech Topic: Understanding GIS engineering and services from big data perspective

Bio: Dr. Peng Yue received the B.S. degree in geodesy and survey engineering from Wuhan Technical University of Surveying and Mapping, Wuhan, China, in 2000, the M.S. degree in geodesy and survey engineering from the State Key Laboratory of Information Engineering in Surveying Mapping and Remote Sensing (LIESMARS), Wuhan University in 2003, and the Ph.D. degree in geographic information system (GIS) from LIESMARS in 2007. His doctoral research was conducted at George Mason University, Fairfax, VA, USA, from 2004 to 2007. He serves as the director at the Hubei Province Engineering Center for Intelligent Geoprocessing (HPECIG), the director at the Institute of Geospatial Information and Location Based Services (IGILBS), the director at WHU-SOUTHGIS Joint Research Center for Spatio-temporal Big Data (WSJRC), and associate chair of the Department of Geographic Information Engineering, School of Remote Sensing and Information Engineering, Wuhan University. His research interests are Earth science data and information systems, Web GIS and GIServices, and GIS software and engineering. He is the former Chair of the IEEE Geoscience and Remote Sensing Society Earth Science Informatics Technical Committee, Chair of Open Geospatial Consortium (OGC) China Forum, Secretary of Surveying and Mapping discipline on the Academic Degrees Board of the National Council of China, and China national committee member of International Society for Digital Earth. He was awarded the Excellent Young Scientist programme from National Natural Science Foundation of China (NSFC), the Outstanding Young Scholar of the National Ten Thousand Talents Program in China, Yangtze River Young Scholar program, and the program for New Century Excellent Talents in University of Ministry of Education of China. He also got a first prize of 2016 Hubei Province Natural Science Award, a first prize of 2014 Natural Science Award in Ministry of Education of China, a first prize of 2013 Hubei Province Natural Science Award, a first place with the Crystal Bull Award in the 2013 Europa Challenge, and 2017 OpenMI association Award for outstanding contributions.